The long-rumored Pentastar upgrade has finally arrived, only for the Jeep Grand Cherokee. We had written, "We are expecting revised heads, direct injection, and better cam phasing, possibly affecting exhaust as well as intake, or altering the valve lift." It has revised heads, new cam phasing, two-level valve lift, and friction reduction, but not direct injection — at least, not yet.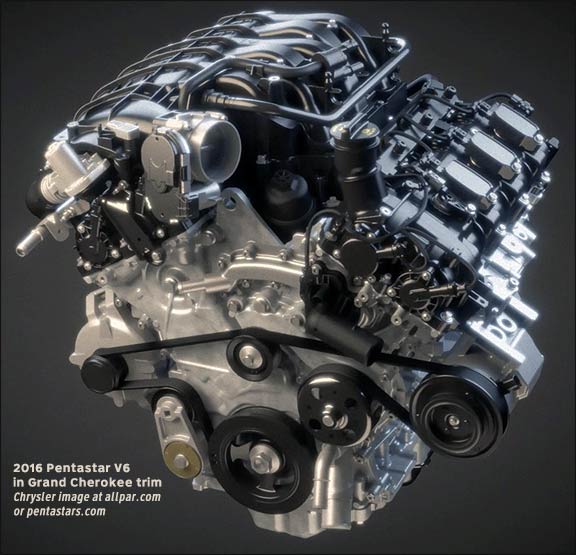 Torque was increased by over 15% at engine speeds below 3,000 rpm for better drivability and less shifting; gas mileage increased by over 6%. On the Grand Cherokee, horsepower rose from 290 to 295, as well.
The revised engine uses two-speed variable valve lift; this reduces "pumping work" at low speeds, for a fuel economy gain of up to 2.7%, without sacrificing top-end power. A new torque-driven cam phasing valve timing system cuts oil demand, and increases its range from 50° to 70°, cutting knock during hot starts and increasing the ability to use the stop-start system. The valve timing system was also recalibrated to take advantage of the new intake manifold.

According to Chrysler, "Passive accelerator application is met with measured throttle response; hard inputs trigger aggressive starts."

The upgraded Pentastar (PUG) has cooled exhaust gas recirculation (EGR) to eliminate knocks and increase efficiency by cutting pumping losses further. A new intake manifold with longer runners enabled the torque boost, and the compression ratio was boosted from 10.2:1 to 11.3:1. The heads include high-tumble intake ports and shrouded combustion chambers. New fuel injectors have eight holes for better atomization.
As predicted, various measures were also taken to reduce internal friction. These include using HG-R1 on the timing drive guide-faces (the new Pentastar is the first production engine to use this low-friction material), new valve springs, low-tension piston rings, and piston pins with a diamond-like carbon coating.
New 100-millijoule high-energy ignition coils are used with platinum spark plugs.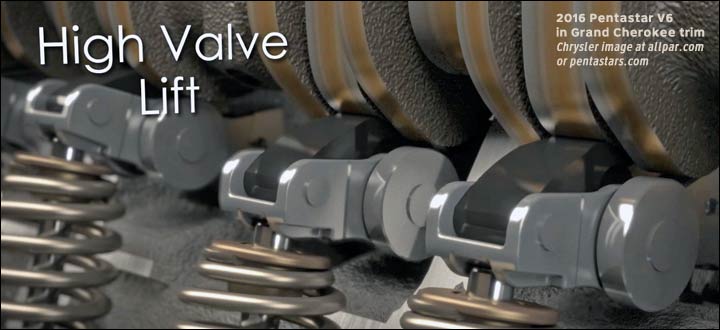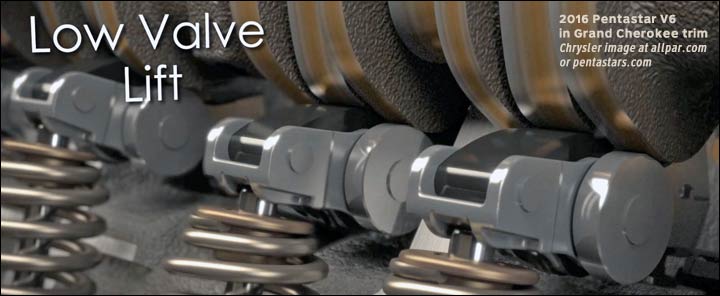 Redesigned components reduce overall engine weight, despite 13 pounds of added content, with the lightest Pentastar coming in at 326 lb (vs the original at 330 lb). Weight was cut partly by using a "thin-wall strategy" to reduce the thickness of some die-cast components. Windage-tray weight was slashed by 19% and front-cover weight was cut by 5%. Two-piece oil pans were eliminated, with the exception of Trail Rated vehicles. The main bearings and crankshaft pins were trimmed, cutting six pounds and reducing friction.

The revised engine has 4.7 million "customer-equivalent test miles.
Possibilities still unknown for the PUG
A recently granted patent (applied for back in 2011 by Chrysler's Richard H. Sands and Alan G. Falkowski) can cut Chrysler's costs and reduce the size of their engines, helping the company to either fit larger engines into their cars, or to lower their hoods.
The patent applies to in-line and V-engines alike, which means it could be used for the upcoming Hurricane turbocharged four-cylinder; but the drawings and a specific size example are taken from a V6 engine, possibly the PUG (Pentastar Upgrade).
According to the patent description, the new setup would integrate valve controls into the head, rather than having them sit on the outside with a separate cover; passages inside the head would provide access to the valves. This would save space and reduce cost. Thanks, Steven St. Laurent.