The future of the Pentastar V6 engine family
(Updated February 15, 2017) The "PSU" — PentaStar Upgrade — on the 2016 Jeep Grand Cherokee and Dodge Durango is not the "PUG" Pentastar upgrade we have been looking for. We still expect new heads and direct injection; we have gotten better cam phasing, essential for hybrid use. We also still expect a turbocharged engine.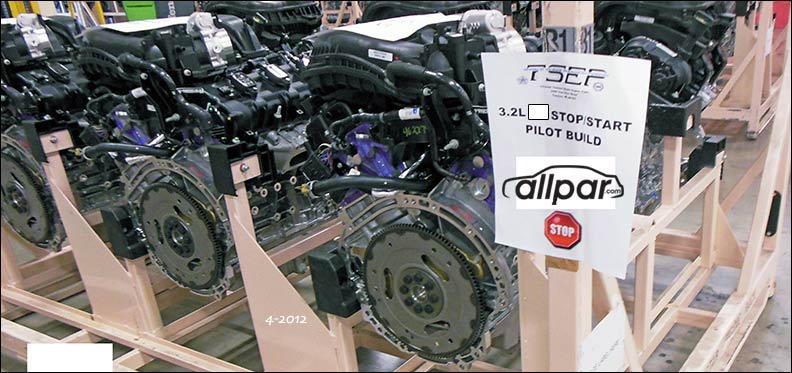 When the new "PUG" engine arrives, the old "legacy" V6 may continue for some cars; changes seem to be getting phased in. The new versions will, at first, all be made in Mexico, rather than the United States V6 plants.
The Pentastar's wide torque band allows it to sit around at 1,200 rpm when cruising and 600 rpm when idling, so moving to three cylinders at that point might not save enough fuel to be worth the added cost and complexity.
A patent (applied for back in 2011 by Chrysler's Richard H. Sands and Alan G. Falkowski) can cut Chrysler's costs and reduce the size of their engines, helping the company to either fit larger engines into their cars, or to lower their hoods. It applies to in-line and V-engines alike, which means it could be used for the upcoming Hurricane turbocharged four-cylinder; but the drawings and a specific size example are taken from a V6 engine, presumably the PUG (Pentastar Upgrade).
The new setup would integrate valve controls into the head, rather than having them sit on the outside with a separate cover; passages inside the head would provide access to the valves. This would save space and reduce cost. Thanks, Steven St. Laurent.
The 3.0 and 3.2 liter engines
Developed to avoid European engine-size-based taxes, it has just under 3 liters of displacement (e.g. 2.997 liters / 2997 cc), and a different block — stronger, with substantial passage differences, and even closer tolerances than the 3.6 and 3.2. Presumably the block was designed to be the basis of a turbocharged version. A December 2011 financial report from Chrysler noted that the Pentastar had an "architecture for downsized displacement, direct injection, turbo charging, and MultiAir." So far, none but the 3.0 liter variant has been seen.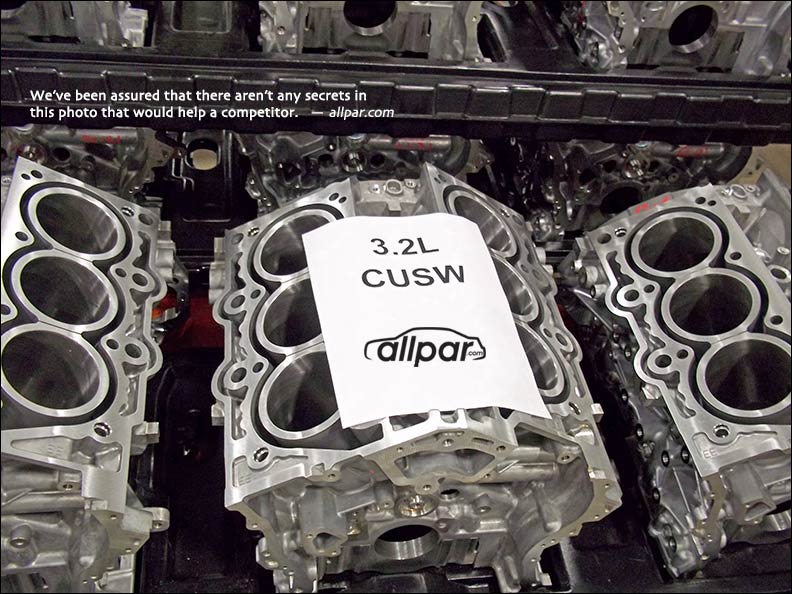 MoparNorm wrote that the 3.2, used only on the Jeep Cherokee, was created by changing the thickness of the cylinder liner; this means there can be a single block, but the 3.2 can still have, effectively, a smaller bore. The piston, rings, valves, and heads will change, and the 3.2 will have smaller journals, increasing gas mileage by reducing rolling resistance.
The produces 271 hp and 239 lb-ft of torque. It comes in at 198 cid — the same displacement as the mid-range slant six — and has a compression ratio of 10.7:1. It appears to be good for around 2-3 mpg more than the 3.6 would be, but there's really no way to know. There are now suggestions that the 3.2 liter engine will be dropped when the Cherokee is updated.
Other Chrysler Pentastar V6 engines
A 3.3 liter version was planned, but dropped. A V8 was rumored early on, but it did not appear in the Five Year Plan; insiders told of us a 4.8 liter V8, which has been cancelled. Some believe now that the company is at the initial stages of planning a new series of V8s, perhaps combining technologies from the Pentastar and GME four-cylinders.
Direct injection has been delayed, and is not expected until calendar years 2017-2018.
A twin turbo and single-turbocharger 3.0 V6 were originally planned for 2014, producing 420 and 370 horsepower respectively (these numbers were targets); it appears to now be waiting for 2017-2020. Still, Ferrari/Maserati have created a 404 horsepower twin-turbo V6, using a modified Pentastar block; buyers can get them in the 300C-derived Maserati Ghibli.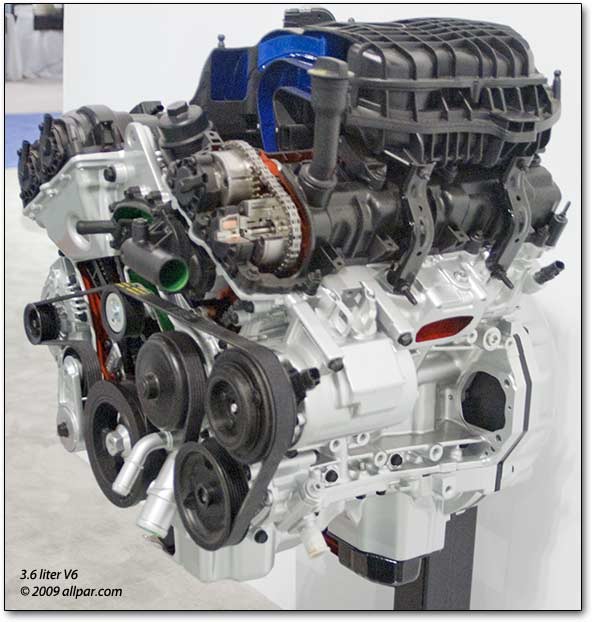 The new lineup of Mercedes V6 engines are most likely close relatives of the Chrysler V6, but Mercedes is unlikely to ever state this on the record.
The following table was first provided in July 2006 with information from oh20, in a form not dissimilar from its current state. Horsepower ratings were derived later, by us, from the Five Year Plan and other sources. All engines have variable valve timing (via dual cam phasing) unless otherwise noted.
Size
Line / Notes
Cars
Production
Start / Status
3.0 V6
Direct Inj., MDS
High-mpg exports
2018?
3.0 V6
Exports
2013
3.0 Twin Turbo
Premium
2017-19
3.3 V6
VVT
Dropped
3.2 V6
Cherokee only
2013
3.2
Direct Injection
Dropped
3.2
Supercharged
Dropped
3.3 V6
DI/HEV
Dropped
3.3 V6
MDS
Dropped
3.6 V6
All but Cherokee
2010
3.6 V6
Direct Injection
Ram, Wrangler
2018-?
4.0 V6
No VVT or MDS
marine use
Dropped?
4.0 V6
MDS, no VVT
marine use
Dropped?
4.7 or 4.8 V8
Dropped
If we rely only on the Five Year Plan chart and what we know of current production and testing, we get this revised chart. We don't know what happened to direct injection — or whether the 3.2 will be MultiAir equipped.
| Size | Line | Horsepower |
| --- | --- | --- |
| 3.0 V6 | Direct injection, MultiAir 2 | 230-250 |
| 3.0 V6 | Direct Injection Turbo (delayed) | 330-340 |
| 3.0 V6 | Twin Turbo (delayed) | 360-400 |
| 3.2 V6 | Cherokee | 271 |
| 3.6 V6 | The original | 280 - 305 |
| 3.6 V6 | Direct injected (delayed) | 310 |
The prior V6 engines (dating back to around 1990) have all been dropped, with the last survivor being the 3.7, lasting to August 2012. The 4.7 liter V8, which produces roughly the same horsepower as the 3.6 (albeit with higher torque), was also dropped.
Past rumors: did we get it right?
Allpar.com started posting news about the Pentastar V6 in 2006, four years before its official release. The Phoenix engines were first discussed by Allpar member "superduckie" way back in March 2006. oh20 (who had been accurate on the Ram, Challenger, Caliber, and Sebring) provided the preceding table of the engines and cars they'd go into back in July 2006.
This report came on November 3, 2008:
Even the most powerful Phoenix, displacing 3.6 liters and producing (in preliminary tests) over 280 horsepower, is quieter than Toyota's 3.3 liter V6 - and far quieter than the Toyota 3.5 liter V6. Gas mileage is said to be good, partly due to the use of high-pressure, die-cast blocks, which save on labor and allow for thinner walls and less use of aluminum. These blocks are 20 pounds lighter than General Motors' V6 blocks, saving around $40 per engine on aluminum alone; an independent firm estimated that these engines are at least $300 cheaper to build than GM's current V6 line.