Pentastar Engines: Production and Factory

The new Trenton (Mich.) Engine South plant was the first Pentastar V-6 engine plant, starting up in March 2010. A second plant in Saltillo, Mexico, started up in early 2011. Many parts are machined in Toledo, Ohio (which was originally to have an engine plant, too). Blocks are die-cast and being made in both Mexico and Kokomo. Camshafts used in Trenton are now being made in Trenton — they had been sourced from a vendor in Mexico until December 2011, under a contract inherited from Cerberus.
Chrysler also re-opened part of the Trenton North plant, which most recently made 3.3 and 3.8 liter V6 engines, to make parts for the Pentastar — some of which are currently made by a Mexican supplier. A full assembly line will be installed in Trenton North as well. Some of the 3.7 liter production equipment moved to Trenton, for Pentastar V6 use. By January 27, 2012, one million Pentastar engines had been made.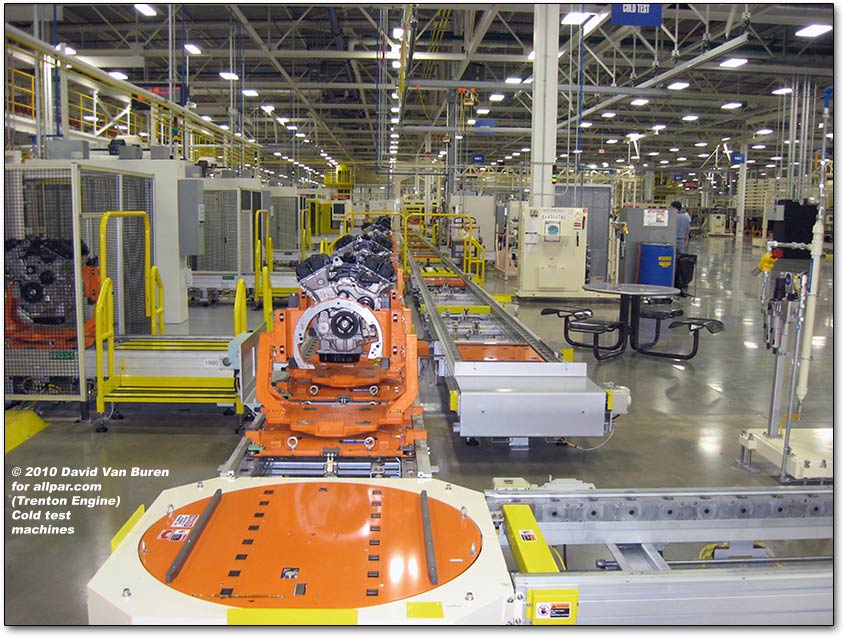 September 2014 update
Kokomo is now casting Ferrari-Maserati V6 blocks, which are machined at Trenton Engine. These are loosely based on the Pentastar design and are not machined on the same equipment.
October 14, 2011 update
Sources say that thousands of engines, including over 500 which were recalled, were built in Mexico using improperly maintained equipment; these engines are being repaired or replaced entirely. This is said to be the reason for shutting down the Windsor minivan plant despite a backlog of orders. The former head of Chrysler Mexico was dismissed shortly after this. This does show that Chrysler cares enough about quality to stop those engines from reaching customers, at great cost. It might also tip the balance to install a new engine assembly line at Trenton North; a cam line was already installed there after a Mexican supplier was unable to provide the needed quantities.
March 27, 2011 update
Direct injection 3.2 liter engine production is reportedly coming close, and should be centered in Trenton, with Mexico producing most of the 3.6 liter engines. The 3.2 is planned as a more economical variant for many vehicles, and possibly the only Liberty V6. It appears that each plant will run both engines.
We will start running pre production parts shortly. I am not sure when actual production will launch but but the build ratio will be 80% of the 3.2s are to be built at Trenton with 80% of the 3.6 in Satillo. We are going to start stock piling some crankshafts this weekend so that we have them to use when the two new machines are being installed in the rough end of the crankshaft line, probably by May.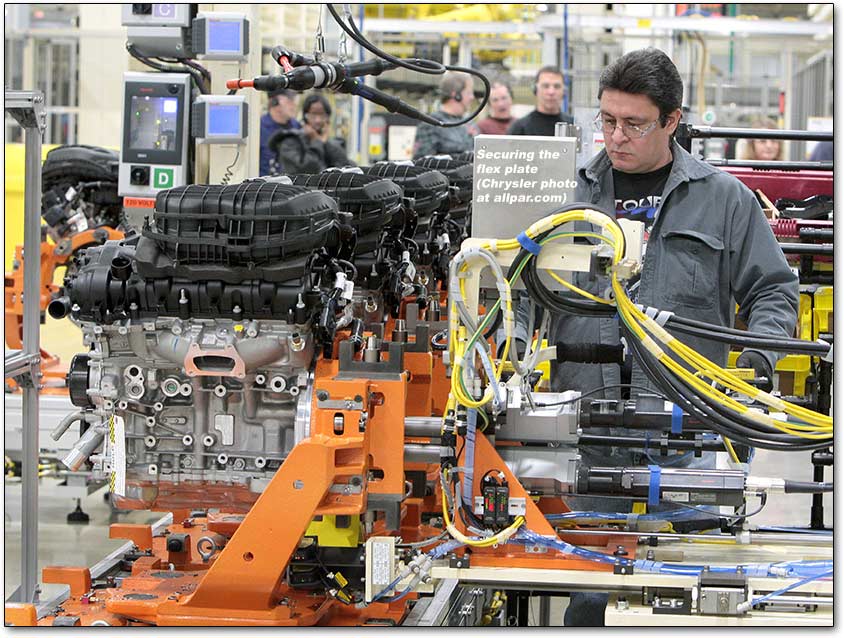 A test batch of engines were made in February 2011, and sent to Roush Industries (which preps the Challenger drag cars) for extensive hot testing, to find any problems before customers do.
Dieter Zetsche said the new engine family would operate on a modular base. The world's best V6 engines were benchmarked; and Mercedes has a camless design that may be integrated into Auburn Hills' work. The engines are built on flexible assembly lines that will allow the mix to be changed quickly and easily. Plants will have job rules that include 10 hour four-day work weeks and two job classifications.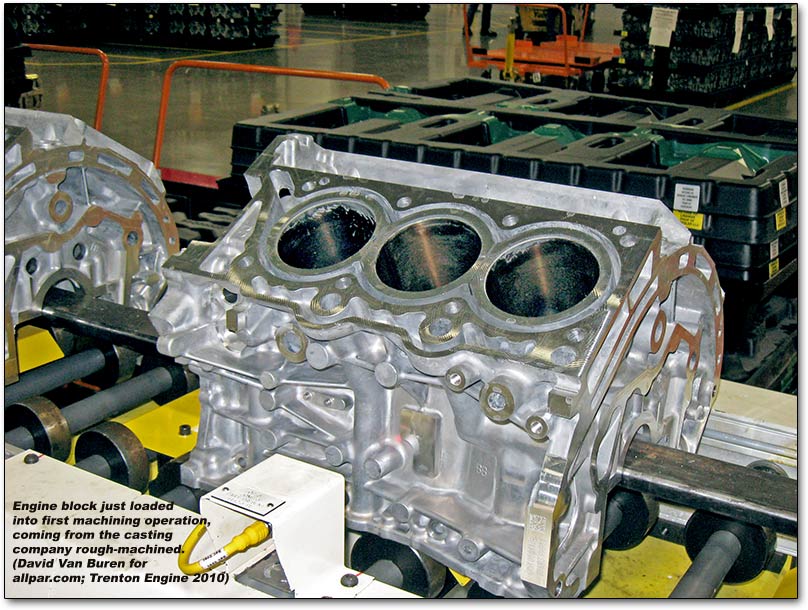 Technologies built into the Trenton Engine South plant include flexible CNC-based machining, volume-bundled parts purchasing, volume-bundled capital investment, and standardized tooling. Many parts are machined in nearby Toledo. (A third plant planned for Kenosha has likely been dropped).
The new plant should save on energy costs; it is one of only four auto manufacturing facilities to receive a LEED rating of any kind, and the only engine manufacturing facility in the world to achieve LEED Gold. Chrysler should save $1.25 million per year in energy, cut CO2 emissions by 12,000 metric tons per year (or 1,000 homes worth) and saved 1.5 million gallons of water per year (or the equivalent of 68 average size swimming pools).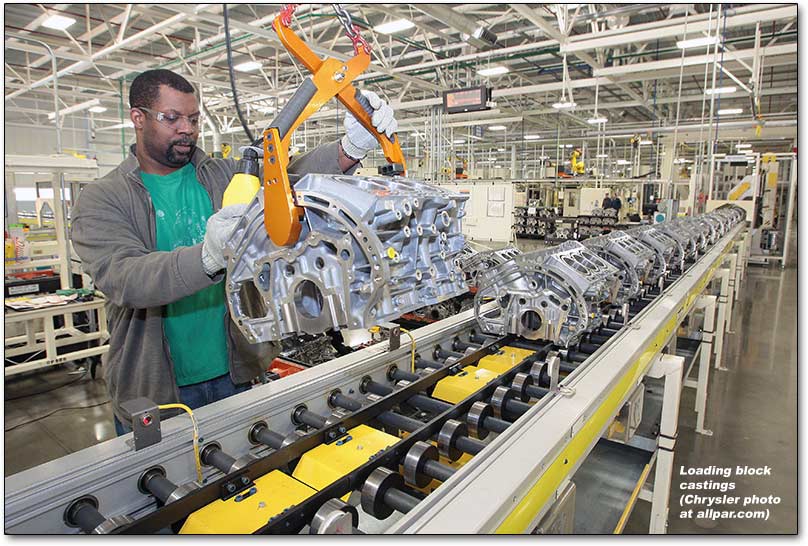 David Van Buren wrote: "Automation is overhead gantry type robots in the machine shop. If a major breakdown happens on one, the whole robot can be easily replaced by unplugging, unbolting it and changing the end of arm tooling with minimal lost production time. My observation of the robots in the machine shop told me they appeared to be all about the same type and size.
"Each major component has an individual identification number with a stamped on it and a radio frequency tag. They know what time each part went into a particular machine. If there is a problem with a part, it's easy to find! They know what parts are on what engines! "
Early production issues
January report
Die-cast blocks can have problems with porosity, resulting in leaks; the high-pressure die manufacturing process, according to "Mad Duck," has a higher scrap rate than sand casting. Even a decade ago, though, the plant would go to extreme lengths to make sure that engines that might be a "leaker" would not be shipped. "You don't even want to think about the effect something like the Neon head gasket or GM X-car effect would have on a new product."
"Atwork" wrote:
During the cubing process, parts are leak tested. If any of the leak rates are too high, they are outright scrapped. If all the leak rates are low enough, they should be passed on as okay (there was a 100% impregnation rule [at Trenton] at one time, not sure of its current status).

If the rates are in a certain range, they are impregnated with silicone sealer and leak tested again. If the leak rates at this stage are low enough, they are passed on to the engine assembly plant.

After machining at the engine plant, it is possible that more porosity is opened. Parts are leak tested at the engine plant as well (and possibly impregnated).

This is where the high pressure die cast can cause problems. The process, while allowing better dimensional tolerances (eg. less machining and weight) than sand or lost foam casting, is more prone to porosity which in turn is prone to more leaking. Once the high pressure die cast process is worked out, it is very stable, but this takes a lot of development time.

Other manufacturers have the same exact problems. It takes time to work through them.

In this case, the problem was exacerbated by the delays associated with the DBAG - Cerberus deal and the bankruptcy. Much of the normal launch curve was cut short. Not as many of the teething problems that would normally be handled during launch were eliminated. In the end it shows up as reduced build capacity.

The problems have been, and will continue to be, addressed.
Mad Duck added:
Leak tests are done with low pressure air, 10-15 psi; the leak rate is measured over a given time. Air will leak through smaller migration paths than oil or antifreeze and water [and is therefore a tougher test]. The silicon impregnation process has been successfully used on Chrysler blocks from the first ones that were used. Minor leakers were impregnated and air re-tested; most would then pass inspection. I don't remember any short or long term problems with this process.

Air testing was difficult for maintenance. The old way we marked an inspected part was with a simple air stamp unit, an air cylinder with a number or letter stamp in the end; the cylinder is stamped on the same place to show successful testing. It's much more durable than the old ink dabs — it does not come off in the final part washer. (In the 3.5/4.0 aluminum block line final washer, it was warm enough that when there was a jam inside, we had to open the doors and wait 10-15 minutes before anyone could go in.)

Now try to do a proper air testing in a 45-second cycle time. There are master perfect blocks (no leaks) and there was a block with a tiny hole drilled into both the water jacket and oil gallery (it leaks at a known rate) used to set up the machines — you have to verify so you can tell both good and bad blocks.

Blocks are air tested twice, once after rough machining, then at final inspection after the freeze plugs (if any) go in. The process is error-proofed (idiot proofed) and perfectly tuned.

One reason engine blocks and cylinder heads had the freeze plug holes in them was to aid in cleaning out the metal chips from the machining processes. The dark sides of the freeze plugs are leaks and noise-vibration-harshness problems; a freeze plug is just like a drum for emitting noise. Also, the fun getting the holes for the plugs sealed up in the air-test process with rubber seals when there was no freeze plug in them.

The Pentastar blocks and cylinder heads have no freeze plugs! No leaks, no noise, but getting them clean of chips is a lot harder. Also, the parts are now using RFID tags and are marked with build dates and times, and a unique serial number for each major part; they are marked using a unit with a resemblance to a dot-matrix printer.

Another problem was getting machine vision systems to read those markings on a flat machined surface on an aluminum block. Look at the plant photos and you will see the odd-colored light on the assembly line, to improve the machine vision process.

Cylinder sleeves are cast iron, and cast into the blocks. Reboring cylinders does not occur and has not been done in 20 yeras, they use one size piston diameter.

The silicon impregnation process was used at Trenton Engine starting with the 3.5 liter aluminum engine; it may have been used earlier on the aluminum heads of the 2.2 / 2.5 liter engines. It works and has stood up over time.
Danno, a former engine machinist, commented on issues of rebuilding engines: "Boring would not affect the integrity as the sleeves are undoubtedly not aluminum, so porosity should not be an issue (unless the sleeves are also injection cast). Any other machine work (line hone/decking etc.) could potentially cause issues. I've actually run across motors that never had any issues prior to rebuild, but leaked a ton of water after the fact. Might be the silicone going away in the cleaning process?"
September 2010 report
In September 2010, engine block glitches were keeping production low, but standards are being kept high, with low production preferred to pushing poor quality engines out the door. We were told that the same teething issues happened with past engines, including the sturdy 3.3 V6 and the new 4.0 liter V6. Apparently, while the kinks in block production are being worked out, more people are being put onto block production while the final assembly area remains on a single shift.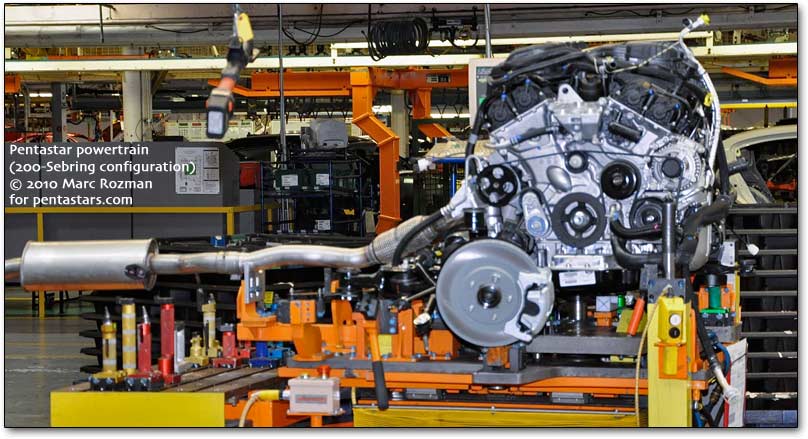 In October 2010, we heard that, while the Mexican plant was being delayed, new machines were being brought in to boost production to 500,000 engines per plant. The blocks are apparently coming in sufficient quantities now, and that problem seems to have been resolved, but other issues, including "cheap tooling" and some "World Class Manufacturing" glitches, are keeping production lower than it needs to be.
For many more photos and more information, see Allpar's Trenton Engine South pages.